Why Use Our Online Marketing?

The Cost, Precision, And Results Are Unmatched
Get pre-qualified, exclusive leads... a pay-for-performance guarantee... FREE access to proprietary client acquisition and management software... PLUS advanced strategies to maximize each lead!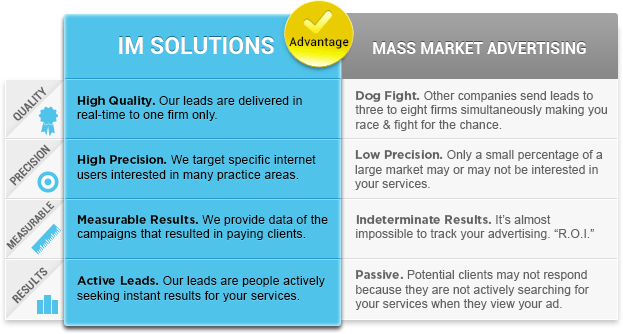 Online Marketing Is Effective
The explosion of Internet and search engine marketing is a familiar story at this point. It is important, nonetheless, to consider that "92% of Web consumers use search engines to shop and buy." -NPD Group Study

That figure includes legal representation services. Traditional forms of advertising, such as Yellow Pages and TV, are becoming less and less competitive. Online marketing continues to be the smart choice for informed advertisers.

Special Advantages of IM Solutions
No Long-Term Obligations. We deliver results, not hype. If you are not satisfied with the service, you can cancel at any time.
Precision Responses. If you sign up for personal injury, you won't get medical malpractice and workers' compensation responses. We give you what you want, not what we need to get rid of.

QUALIFIED LEADS
Pre-Qualified, Low-Cost Leads
Stop wasting your money marketing to the wrong people. Every lead you'll get is highly motivated, highly targeted, exclusive to YOU and actively searching for your services in your local area. Plus, our pay-for-performance guarantee makes it risk-free for you.
UNLIMITED SUPPORT
Software & Consulting
We do more than get you new clients. We can help you manage your business! We spent over $1,000,000 creating our web-based, exclusive, and proprietary client management software. It helps you manage your clients, instantly access records and collaborate with clients and staff. Plus, our qualified consultants work with you personally to maximize your results and are there for ongoing support and maintenance.
GUARANTEED RESULTS
Pay-For-Performance Only
We've spent years perfecting our marketing systems that send you targeted, qualified leads via automated process. We know it works because we've helped hundreds of other attorneys grow their businesses. That's why we're putting our necks on the line and getting paid only when YOU get the pre-qualified leads you need to grow your business. We also don't require a long-term contract - we know you'll continue to work with us as long as we deliver results.
What Our Partners Are Saying...